| | |
| --- | --- |
| | Advertise with LawCentral and target your market. LawCentral bulletin statistics and rate card for advertising is below. |
The LawCentral bulletin reaches over 40,000 professionals each week. It offers an excellent opportunity for businesses aiming to attract high net worth professional individuals and organisations. The LawCentral Bulletin subscriber list consists primarily of:
Accountants
Financial Planners
Small and medium business owners
High net worth clients
Lawyers
Client feedback indicates that the LawCentral Bulletin forms part of the weekly training material for thousands of businesses throughout Australia and is regularly circulated through internal office email.
The bulletin consists of informative stories, factoids and commentary regarding developments in:
Superannuation
Asset Protection
Estate Planning
Law specialising in tax and family law
Funds Mangement
Financial Planning
Business Structures
Commercial Law
Best practice advice for accountants
Subscribers to the weekly Law Central Bulletin
Geographic Distribution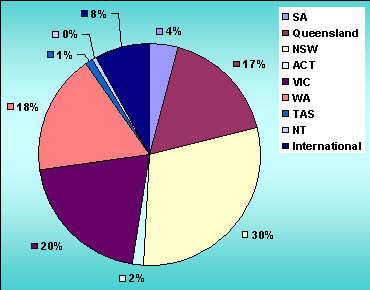 Subscription by Profession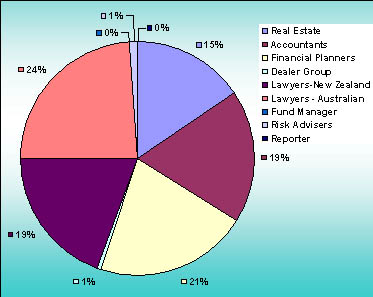 All advertising is governed by LawCentral Co Pty Ltd Terms and Conditions. To view terms and conditions click here.
Advertising Opportunity with LawCentral
LawCentral offers the opportunity for ethical businesses that will add value to our members to advertise in this well read publication.
Advertising Panels are available in four different forms.
LawCentral Advertising Rate Card
Location
Size
Cost
width x height
(in pixels)
Weekly
(1 Issue)
Monthly
(4 issues)
10% discount
Quarterly
(12 issues)
15% discount
Right Panel
158 x 158
$249
$896
$2539
Right Panel
158 x 350
$499
$1796
$5089
Advertised Content
Full width x 200
$749
$2696
$7639
Advertised Content
Full width x 400
$999
$3596
$10,189
Please note:
Images need to be in .jpg or .gif format.
Content needs to be in plain text or HTML including specific hyperlinks.
Discounts are available for advertising packages of 4 weeks and over.
To advertise with LawCentral please contact Jason Styles on (08) 9476 4900, alternatively email advertising@lawcentral.com.au
Sample Sizes of Advertisement
| | | |
| --- | --- | --- |
| 158 x 158 pixels | | 400 x 200 pixels |
| | | |
| | | |
| 158 x 350 pixels | | 400 x 400 pixels |
| | | |